I see so much joy in her eyes as she is dancing. Exhaustion in my voice, I tell her, "Let's practice piano." I open up her book and point to the song of the week. But she doesn't hear. Her inner compass points to a more free form of artistry as she hums a spontaneous song and dance.  
Often she is still wearing her school uniform in the evening, evidence of how much structure we impose on her childlike joy. But tonight she is wearing her ballet leotard, a tutu made of an old blue bandana, and a purple feather boa that is losing most of its feathers.  
She is radiant. She is submerged in the divine flow of the moment.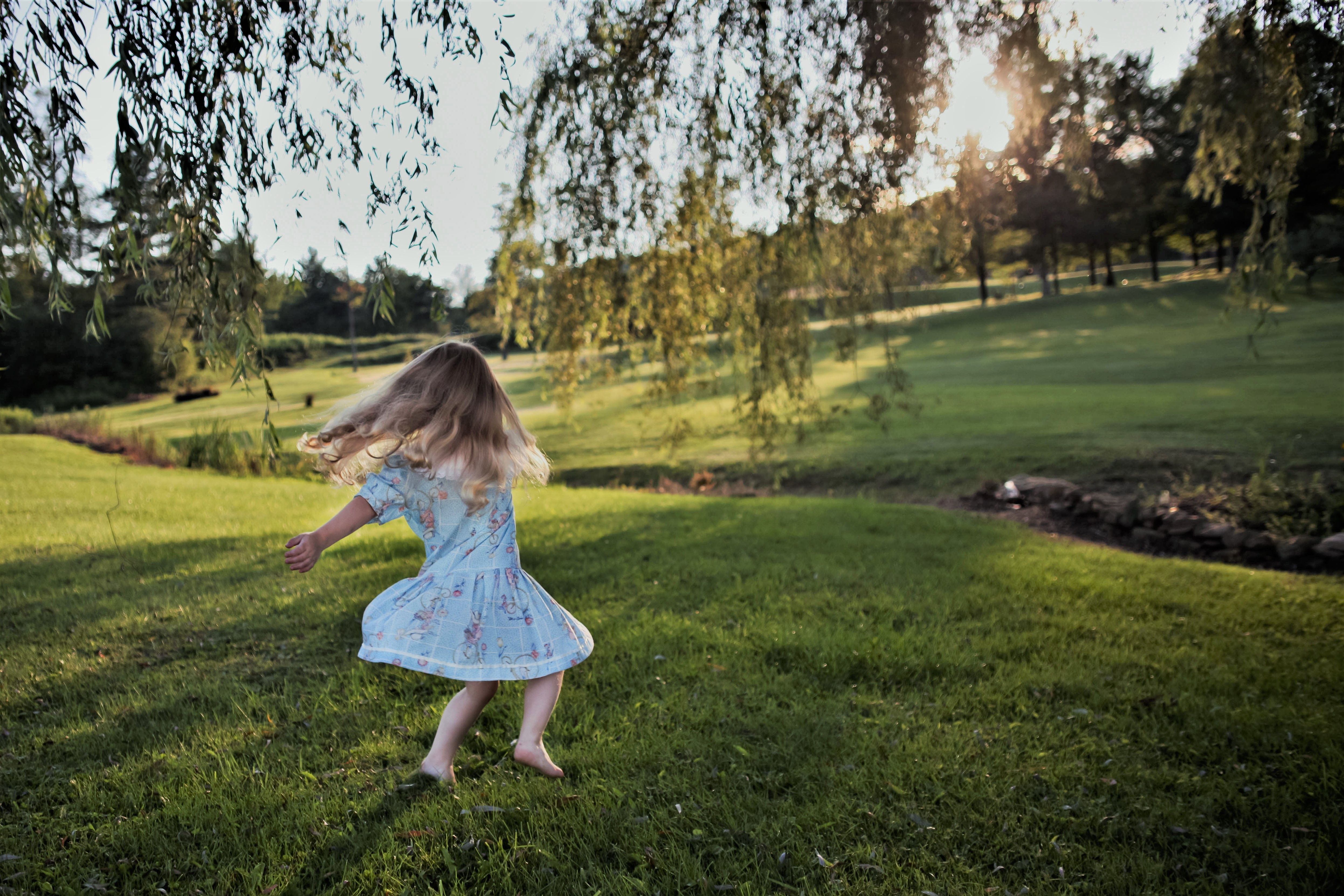 Photo by Gabby Orcutt on Unsplash 
My heart aches, longing to reclaim that endless capacity for joy. For playing and expressing simply because it feels good. I had that once. But one fateful afternoon, my friend's dad sexually assaulted me. I was only five years old, the same age my daughter is now. And after that playdate, I never again felt quite so free and unencumbered. I could still glimpse my childlike, joyful expression when playing by myself. But in the company of others, I felt a new alertness to ensuring my safety by never upsetting anyone. 
When I was pregnant with my daughter, I began to face this trauma that had cast a dark cloud over my life. In therapy, I often came up against the feeling of having been robbed. I believed the bad man had stolen my playful spirit, and it was forever lost to me.  
But as I watch my daughter's shining face and expressive arms, I realize my own spirit was never stolen. It was just squashed. Compressed under the weight of fear. But my joyful five-year-old is still inside, ready to play and create and smile just for fun. 
Sometimes my inner child pouts because I spend so much of my life focused on responsibilities. And that ain't gonna change any time soon. If I were to completely renounce adulthood, I think my family would be very tired and hungry and generally drifting through chaos. 
"Let's strike a deal," I tell my playful, childlike parts. We will still fulfill those adult responsibilities. But we can also join in the dancing and tutus. We can paint and scribble. We can sit down at the piano and let the notes pour out. We can laugh and be silly and go down the slide at the park. 
If I play long enough, the adult part of my psyche will eventually look at the clock and say, "It's time to brush our teeth and go to bed." As humans, we have the capacity to be both mature and childlike at the same time. We can grow into responsible adults and still remember how to play and create and find beauty in life's simple pleasures. 
I believe we all still carry our childhood joy inside, in spite of the many ways society tries to beat it out of us. The dull dampening into "adulthood" may come from trauma or cruelty, or from something more difficult to spot such as comparison to others, media messages, disapproval, or pressure to conform. Precious few of us arrive into adulthood with our delightful inner child shining proudly. 
But whatever may have happened in the past, it is never too late to reclaim our pure, childlike joy. When we embrace all parts of ourselves, resentment and pain softens. We just may discover a little one within who has been patiently waiting for us to reach out a hand and say, "Will you dance with me?" 
I would be honored. Just let me find my feather boa.