Have you ever felt guilty for resting? Or doing something fun and thoroughly "unproductive?" I used to be the queen of guilt-tripping myself for just about anything that felt good. And the tendency still pops up throughout the stages of my life. But I have learned to see how much that guilt-tripping voice is an internalization of unhelpful messages from the outside: Don't be lazy. Push through your body's needs because nothing is more important than getting stuff done. Every second you are not moving toward your goal is a second wasted.  Ick. I feel the contraction of those messages, and I see how much they are the lifeblood of capitalism and patriarchy. 
Now I am all in favor of healthy goals, self-discipline, and achieving what you want to achieve. It is the implied "should," the pressure that is the problem. Underneath is a fear of being unworthy or unaccepted or being thrown on the street if we don't constantly push ourselves. So we act as if we are robots. 
But it turns out we have bodies. And when we don't honor our physical needs for healthy food, holy rest, and joyous playtime our immune system is not happy. And then we get sick all the time. And freak out about new viruses. And run ourselves into the ground until there is no other option but to rest. 
What if we could learn to integrate rest and reflection into our routine of highly valued activities? What if we listened to the needs of our bodies? It is true that the outside culture does not support us stepping out of the "I am a robot" model. But when more and more of us choose a different way of being, the culture gradually shifts with us.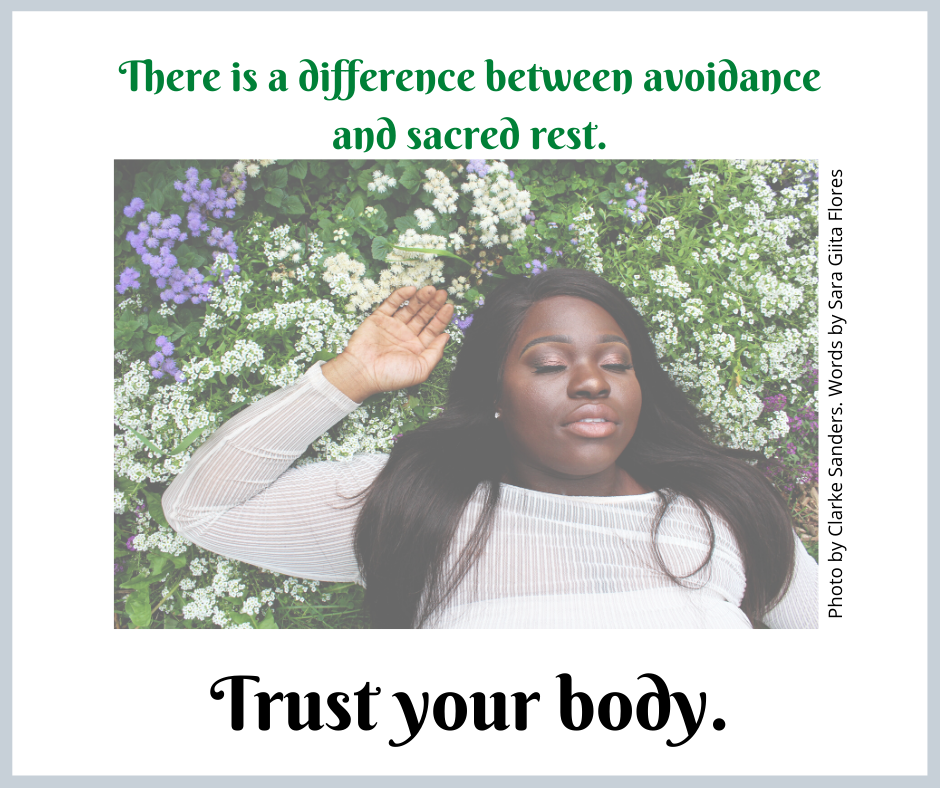 Instead of viewing rest as a necessary distraction from our to-do-list, we can see it is restorative and productive. Gathering our energy is not the same as avoiding what we need to do. Laziness is a term we can reclaim to reflect the joy of doing nothing. And we can trust that the time we spend resting will make us more focused, calm, and productive when we are ready to buckle down.   
So go take a walk, or dance, or lay down. Eat slowly or meditate or sing or make something that has no apparent function other than to be pretty. Or go to yoga. Just honor your body and your intuition. Reclaim sacred rest and sacred play in your life. And tell me how it goes!