Last week I was delighted to visit a local Butterfly Pavilion, an enclave of abundant tropical greenery and beautiful winged creatures. After looping around the greenhouse a few times, I plopped down on a strangely low bench. It put me at eye level with the lowest part of the glass case holding hundreds of cocoons and a dozen newly emerged butterflies.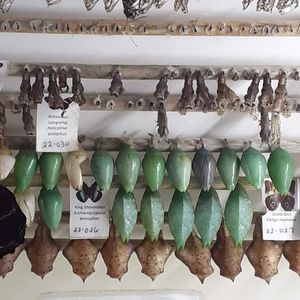 Now I'm well aware that the whole caterpillar-chrysalis-butterfly transformation has become a cliché in the personal development world, but I'm going to go ahead and add to that overuse because one particular butterfly really touched me. Seriously. 
The insect was on the floor of the chrysalis case, with its wings still wet and heavy. Its little legs were working so dang hard to drag its big heavy wings along, crawling furiously until it reached a higher spot on a branch. Then it rested completely, letting time and nature do the work of preparing its wings for flight.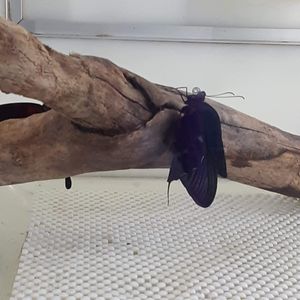 While the butterfly may go through this period of waiting, pause, and perhaps struggle only once in its lifecycle, I find that we creative souls go through similar periods multiple times throughout our lives. This season is symbolized by the dormancy of winter, a time of year that we may love or hate. In my case, I tend to view winter as a period to "just get through," looking ahead to the hopeful warmer days. I don't go through winter kicking and screaming, but I'm sure not delighted about it either. 
The tricky thing about a creative winter is that we are not taught how to recognize the opportunity for restoration and pause as a healthy, natural phase. It's super common to start telling ourselves stories like: "I'll probably stay stuck forever," or "I'm just not creative enough," or "my work was garbage anyway," or "my days of singing/writing/ painting/fill in the blank . . . are OVER." 
Clearly these are not happy stories to tell yourself. If you've mistaken a creative winter for a demoralizing dead end, my heart goes out to you. You deserve self-compassion, grace, and softening of those crusty beliefs that may be causing creative paralysis. 
One of the most powerful ways to embrace the creative winter and free yourself up to move into springtime is to invite in divine support. Our ego self can keep us small and stuck for years, yet when we open up to our higher Self taking the lead, we often discover new possibilities and ways of being. We can start to see creative winter as a gift of restoration that is certainly not meant to last forever. 
In my case, my inner divine consciousness has led me to seek support from coaching as well as creative peer support over the past year, and that juicy community has opened up massive creative and personal shifts. I finally feel the confidence and alignment to live my purpose. 
If you ever feel called to give yourself that gift of compassionate support, I want you to know that I am here for you. Whether you feel curious about voice lessons, creativity coaching or the celebration Circle group program, I'm always up for a chat. Just send me a message on the "contact" page of this site!