True security lies within. When we deeply understand this, we can start to have more moments of feeling grounded even amid uncertainty, chaos, and conflict.  
When I look at the polarization we are feeling in the US, I see that we are in a battle between people's subconscious beliefs of what will make them feel secure. As humans, we are fundamentally in an uncertain state with our only guarantee being death. That makes us scramble for things to grasp onto, even if they don't actually bring security. Any kind of rigid belief that we are right and the other group is wrong stems from this desire to create certainty. When we find a group of people who confirms our beliefs, that gives a sense of comfort to our ego. But then if we contact anyone with different beliefs, our egos feel as if our life is being threatened! 
Now if this philosophizing sounds a little dark, bear with me here because our awareness of where these fear patterns emerge can also help us embody a higher perspective. We can move beyond the us-versus-them battle mentality and be guided by love and kindness. We can feel compassion for why people feel so entrenched in their positions. We can be gentle with ourselves when we are sucked into the fear of our uncertain future.  
I'm not saying this is always easy. Over the past few weeks I have spent done a few sessions of making campaign calls and speaking with undecided voters. When I come into contact with someone who's views strike me as selfish, it takes at least a day for me to recover and ground myself in love once more! I was raised to see humanity as one big family, to love Mother Earth, and to care for all beings on the planet. It pains me that not everyone shares this consciousness at the moment.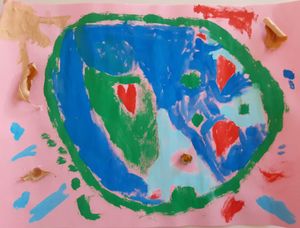 Even when it hurts, we can move through the pain by keeping our sights on a higher perspective. All of this turmoil and shadow work is feeding the collective awakening of humanity. Through struggle we grow, question, contemplate, and start to release what no longer serves us.  
We can see that the evolution of humanity is moving away from the false security of small-group identities and small-minded beliefs. We can gradually release our search for safety from outer circumstances. We can build a strong foundation from within, knowing we can always trust our expansive, deepest self to guide us through the challenges and bring exactly the right lessons for us to learn.  
When I take a higher perspective, that's not the same thing as hiding in a cave, being passive, or backing down in the face of injustice. I'm a big believer in activism and democratic participation when it feels right! I am speaking about grounding in our highest selves so we can have moments of transcending the collective fear, meanness, and prejudice against those who have different beliefs. 
No matter what happens in the coming months, the old power structures of patriarchy, white supremacy, and colonialism are still collapsing. With this dramatic death, many of humanity's old illusions are also crumbling, especially the frantic search for safety from external circumstances. Each individual must decide: am I going to get crushed beneath the rubble? Or am I going to step outside and take in the sunshine and see that nothing on the outside could make me feel safe anyway? 
Only the love within can bring certainty. We are our own saviors. And when we stay true to our inner knowing, we can spread love and light for the healing of ALL. 
Keep your light shining in these intense times. I believe in you.