Where can you find a pocket of gratitude right now? 
Every morning for the past three weeks, my friend and I have been texting each other a few things for which we feel grateful. It takes around two minutes, and the practice is shifting my awareness to help me notice what is going well, what is bringing me stability and what I can appreciate. 
There are many scientific studies about the benefits of gratitude, and sometimes I even get tired of hearing about it. "Yeah yeah," I think, "I know I'm supposed to be grateful and it will make me happier." Then I might think of a few things I appreciate, but not carry through in any long term way. 
Having someone else to keep me accountable has made the practice of gratitude easy, though. And, sure enough, my neuropathways seem to be changing. It is becoming more natural to notice the beauty around me. It is becoming easier to give and receive appreciation. 
Inviting gratitude into our awareness does not mean we deny suffering or pain or fear. Our big human hearts can hold both the fear and the thankfulness. 
I am scared someone I love will die from the virus. And I simultaneously feel grateful for their love and the joy and learning they have brought into my life. 
I am nervous about losing my balance while having my kids home for an unknown number of months. I always thought I would go crazy if we tried to homeschool. Yet I am grateful to find I do have the capacity to adapt to unexpected changes like online schooling in quarantine. And I can feel grateful for all the beautiful things that lighten our moods these days: sunshine, backyard games, music, dancing, cuddling, gardening, reading, board games...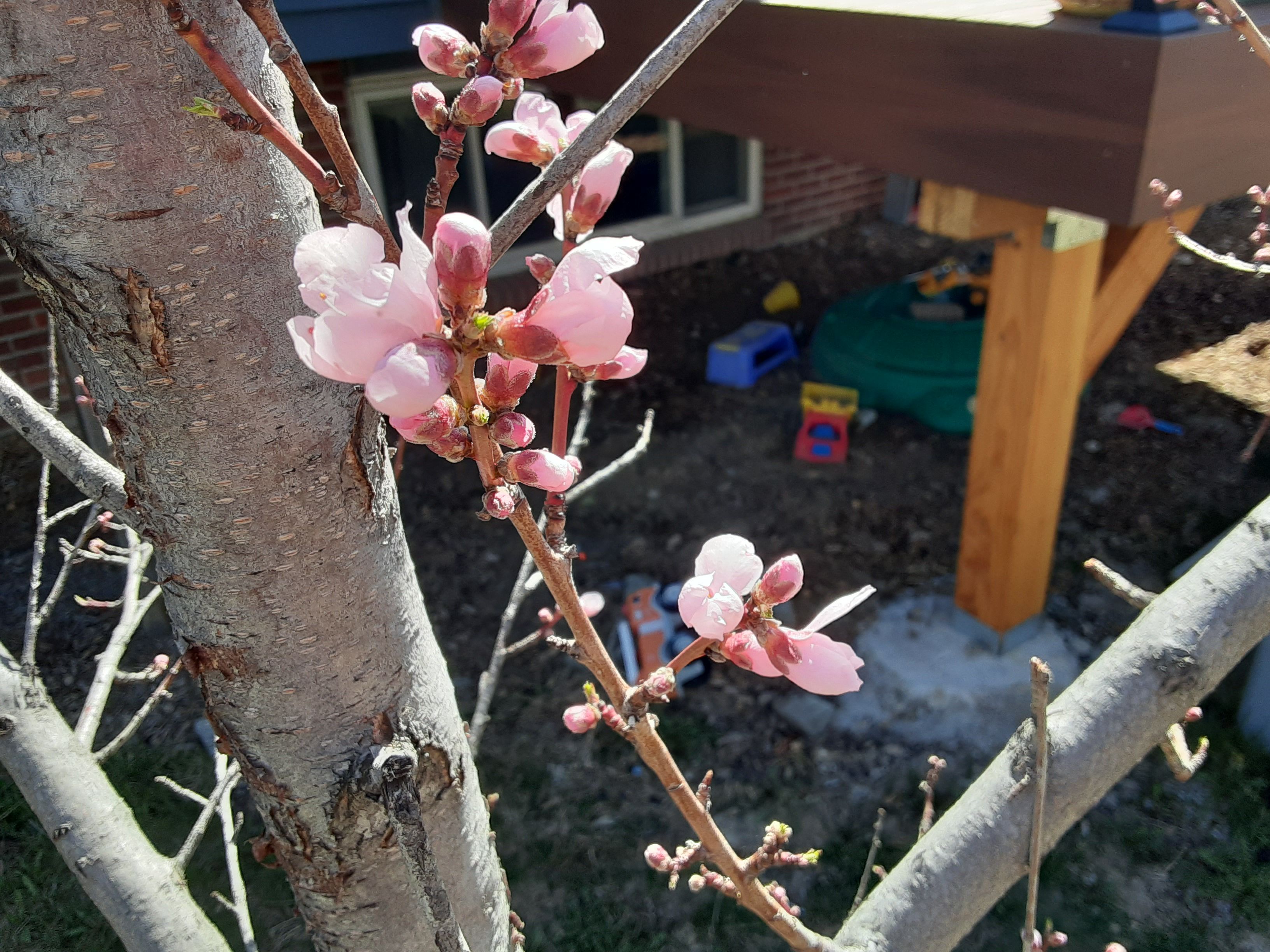 I am grateful for the blossoms emerging on our peach tree!
Focusing on gratitude lets us embody the both/and emotional rollercoaster of this unprecedented change on the planet. A pandemic naturally brings up many of our fears for our survival. It can be immensely challenging. And at the same time, this period creates the opportunity to move our nervous systems out of survival mode and hypervigilance. 
We are invited to join the awakening on the planet - and grow our capacity to accept, embrace, and bring love to All That Is.
As we spend more time at home, we can let rushing fall away. Maybe the fulfillment we were chasing with such fervor was never "out there," but inside us all along. We can stop running away from our demons, and instead turn around to face them. They probably are not the crushing monsters we imagined. They are just scared parts of us that want some love and attention. 
There are many doorways to embrace the difficulties as well as the beautiful opportunities at this moment in time, and I find gratitude to be one of the most accessible. So I invite you to leave a comment and share: what are a few things that make you feel grateful right now? And if you are inspired to take up a gratitude practice or find a gratitude buddy, I would love to hear about it! 
With love, 
Sara