Take a breath, my children. Take a pause. You have been in constant busyness for so long that you have not heard my subtle nudges to slow down and contemplate. Now is the time to grow your sustainable, nourishing roots. Now is the time for transformation. 
I imagine Mother Earth whispering this message in all of our ears right now. Amidst the very real suffering of this pandemic, we are being invited to change our whole structure of how we relate to ourselves, each other, and our planet. Carbon emissions are plummeting due to the virus, and the air is clearing. We can see that in every crisis there is tremendous opportunity for positive growth and change. 
Two weeks ago I wrote about how we can bring more sacred rest and joyous play into our lives (click here if you missed it!) Listening to the messages of our bodies allows more rest, nourishment, and joy in each day. With so many cancellations and closings, we have a new opportunity to relish in our own simple pleasures. And as we feel the budding freedom of our own rhythms, we are contributing on a micro-scale to shift our culture of push-push-push, take-take-take, go-go-go. 
On a macro scale, the coronavirus is showing us that the seemingly marble-solid institution of capitalism is beginning to crack. It is unable to adapt to any unexpected slowdown in our relentless drive for visible productivity. What happens if we step out of the old doctrine that the only way to have stability is to grab as much as possible from the Earth and work till we drop? 
I recently had my mind blown by the concept of the Fertile Void in a book by Kate Northrup. Patriarchy and capitalism expect us to be in a state of perpetual harvest, as in always producing maximum yield with no breaks. But nature and our bodies need periods of rest. These times are also productive, but the positive effects are not measured by the eye. For the Earth, rest allows the soil to collect nutrients. The fallow period builds the soil's reserves for the next cycle of outwardly visible productivity. This period of restoration is the Fertile Void. 
In our lives, the Fertile Void may look like a lot of waiting without knowing what will come next or how things will change. Rest, contemplation and play allow our immune systems to strengthen, even if we wish we had answers and plans to cling to during the waiting. When we don't know what is coming, it is invaluable to acknowledge that the vulnerable, childlike parts of our psyches may get really scared.   
When we can learn to access our adult wisdom to reassure and care for our scared parts, that is where the peace seeps in. That is where the rest and the unknowing can become the ultimate gifts. They give us the opportunity to ground in our power, to restore our spirits, and to connect deeply with others. When we learn to trust ourselves through the uncertainty, we heal.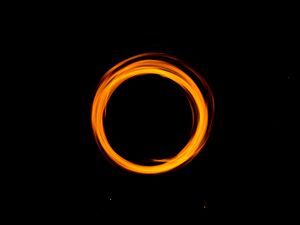 Photo by Jeremy Perkins on Unsplash
While there is beautiful opportunity in this collective pause, I am not denying the intense suffering caused by COVID-19, nor am I trying to diminish the financial hardship many are facing now. This economic system leaves many hard-working people without much savings or cushion for hard times. I recognize that I am privileged to have extra money to stock up on groceries for my kids and their big appetites. I am lucky that my husband and I can both work remotely. And if at any point those incomes were to collapse, I am privileged to have family members I could call upon for assistance if finances got really dire. 
The fact that so many people in our society don't have these privileges reveals where our economic system needs serious change. This may look like an entirely new economic structure such as Prout. Or this could include incremental changes such as greater safety nets for all members of society. Or we may be inching toward (or leaping toward) Universal Basic Income. Many thought leaders have made it their life's work to map out the positive possibilities of how our economy can better assure our basic needs while also giving opportunities, incentives, and freedom to all members of our human family. 
But we won't be ready for a more sustainable system on a large scale until a critical mass of individuals bravely step out of fear-based thinking and awaken our consciousness. We need to dismantle the dominant outlook that the masses need to slave away for survival. And just as importantly, we need to release the resentment and inadequacy that we have been fed since birth simply because we are not rich yet. So many people carry anger that despite all of our hard work, despite following all the rules and being good little producers, we still don't feel secure. We still don't feel safe. We still don't trust that we have enough. I am here to shout: it's not our fault! We deserve to feel supported by our society, not pitted against each other, scratching for every little scrap of security! 
We could spend all our energy throwing anger and blame at the politicians and wealth hoarders. But their power is already crumbling. What if we gather our beautiful energy and focus on our individual and collective awakening? What if we take this fallow period of rest to stock up on kindness, and trust, and love, and creativity, and inner strength? Imagine what seeds we can collectively fertilize. 
A good place to start is by loving and nourishing our inner children. Usually when internal anxiety runs high, it is the inner child doing most of the freaking out. He/she/they are terrified of not getting their needs met. See how your own scared parts react to you stepping into the wise, calm, reassuring adult voice. 
I got you. I am here. Take a breath. It is safe to slow down. It is safe to trust your needs will be met. We will get through this. 
Was that the voice of Mother Earth again, or my own inner adult? Since we each have access to infinite wisdom, I am deciding they are one and the same.